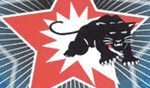 ---
| | | |
| --- | --- | --- |
| | CURRENT EVENTS AND EXHIBITS | |
It's About Time... Current Events and Exhibits
---
2005
ALL EVENTS ARE NOW ON THE HOME PAGE



Special guest speakers and live entertainment
"Bobby Hutton, Oakland legend".




Click on link for more info...
"Big Man" Book Signing

Elbert "Big Man" Howard will be key noise speaker at this years Lil Bobby Hutton Day. "Big Man" as Party members called him, will also be selling and signing his new book "Panther on the Prowl".

Big Man was one of the Original members of the BPP(1966-1974), Deputy Minister of Information, first editor of the BPP newspaper, member of the Central Committee, Party spokesman. Come meet this Real Panther.

Bobby Hutton Day will be held April 16, 2005, at the West Oakland Library, located at 1801 Adeline St. Oakland at 1:00 PM
Click for more details...



The Seattle Black Panther Party Alumni members and
It's About Time are hosting a number of events in 2005
2004
December 5th, 2004 - Tougaloo College - Mississippi

December 7th, 2004 - Mississippi State Supreme Court Bldg.

Click for more details



November 2004
October 2004
Black Panther Party Photo Display
"The Beginning"


Celebrating Black Panther History Month
October 22nd - December 10th, 2004
This exhibit deals with the BPP from 1967 - 1969

Merritt College Library
12500 Campus Drive
Oakland, CA
Monday - Friday. Call (510) 436-2457 for additional information and hours.

October 8th - October 29th, 2004 -- Contra Costa College Library
Slide Show and Forum About the BPP October 15th. -- 6:00 to 9:00 PM
Liberal Arts Building, (LA)
Room 100
Contra Costa College Library
2600 Mission Bell Drive,
San Pablo, CA.




Black Panther History Month Event
October 6th - October 31st, 2004

Black Panther Newspaper Display Honoring Emory Douglas:
Revolutionary Artist and former Minister of Culture for the BPP
West Oakland Library
1801 Adeline, West Oakland
Monday - Saturday. Call Library (510) 238-7352, or Check Here for Hours.




September 2004
Saturday, September 11th, 2004
9:00am - 6:00pm
Malcolm X College - Chicago, Illinois



May - August 2004
Asian Resource Center
8th & Harrison St., Oakland CA
June 1st - August 1st, 2004