MESSAGE OF CONDOLENCES ON THE TRANSITION OF OUR
REVOLUTIONARY SISTA, COMRADE & FRIEND SAFIYA BUKHARI
HAVANA CUBA - August 29, 2003
---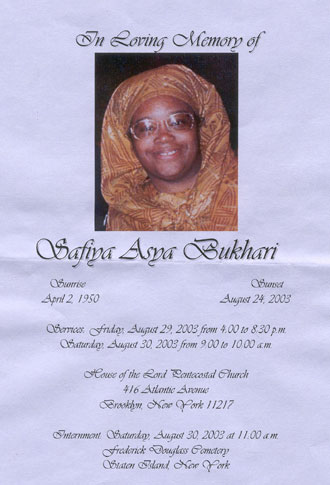 It is with much sadness that I say my last goodbye to Safiya Bukhari. She was my sister, my comrade, and my friend. We met nearly thirty-five years ago, when we were both members of the Black Panther Party in Harlem. Even then, I was impressed by her sincerity, her commitment, and her burning energy. She was a descendent of slaves and she inherited the legacy of neo-slavery. She believed that struggle was the only way that African people in America could rid ourselves of oppression.
As a Black woman struggling in America, she experienced the most vicious forms of racism, sexism, cruelty, and indifference. As a political activist, she was targeted, persecuted, hounded, and harassed. Because of her political activities, she became apolitical prisoner and spent many years in prison. But she continued to believe in freedom, and she continued to fight for it.
In spite of her personal suffering, in spite of chronic, life- threatening illnesses, she continued to struggle. She gave the best that she had to give to our people. She devoted her life, her love, and her best energies to fighting for the liberation of oppressed people. She struggled selflessly, she could be trusted, she was consistent, and she could always be counted to do what needed to be done. She was a soldier, a warrior-woman who did everything she could to free her people and to free political prisoners.
Her absence will be felt. She will be sincerely missed. I have faith that the Ancestors will welcome her, cherish her, and treat her with more love and more kindness that she ever received here on this earth. I pray that her sisters and brothers, who continue to walk on this planet, will honor her memory by continuing her work, by continuing her struggle, and refusing to quit until all oppressed people and all Political Prisoners are free.
Assata Shakur